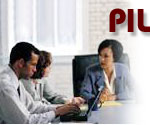 Pilon Adjustment
Service, Inc.
P.O. Box 521
Fond du Lac
WI 54936-0521
Phone: (920) 921-1810
After Hours: (920) 904-0873
FAX: (920) 921-7222
info@pilonadjustment.com

Pilon Adjustment Service, Inc. is an independent claim adjustment firm, providing multiple-line insurance claim service.
The company was organized in 1958 by Joseph E. Pilon. Specialties include property loss adjustments, including time element losses relating thereto; casualty losses to encompass worker's compensation, product liability and investigations. Our staff continually attends related seminars and CEP's.
Casualty -
Obtain recorded or written statements, photograph and diagram accident scene, handle injury and/or Medical Payment claims to completion, handle subrogation, handle any other aspects of the investigation/injury as requested by the client company
Property -
Scope loss, prepare estimate and apply depreciation per policy guidelines. All-Risk claims adjusting. Our appraisers are currently using Xactimate Computerized Estimating System.
Worker's Compensation -
Complete investigation, to include statements, computation of wage loss and handle State filings, schedule IME's


Home | Staff | References | Information Request | E-mail Us




We strive to provide efficient, complete
claims service from beginning to end.