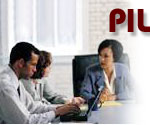 Pilon Adjustment
Service, Inc.
P.O. Box 521
Fond du Lac
WI 54936-0521
Phone: (920) 921-1810
After Hours: (920) 904-0873
FAX: (920) 921-7222
info@pilonadjustment.com

Let our experienced and courteous staff help you with your next assignment.
Patrick C. King
pat@pilonadjustment.com

Mr. King graduated from Sun Prairie High School. He attended the University of Wisconsin-Madison, and graduated from Madison with a B.A. Degree. He has been working as an insurance adjuster since 1988. He previously worked for Society Insurance Company prior to joining the firm in 1998. Mr. King is co-owner of Pilon Adjustment Service, Inc.
Specialties:

Property
Commercial Liability
Inland Marine
Business Interruption
Catastrophe Experience


Valerie J. Trampf
val@pilonadjustment.com

Mrs. Trampf was a graduate of Campbellsport High School, Campbellsport, Wisconsin and attended MPTC of Fond du Lac, Wisconsin. She joined the firm in 1985 in a secretarial position for the Casualty Department. In January, 1986, Mrs. Trampf started on-the-job training in Liability claims and Worker's Compensation. She has attended numerous seminars in the related fields. Mrs. Trampf is co-owner of Pilon Adjustment Service, Inc.

Liability Investigating
Worker's Compensation
Catastrophe Experience


Kathie Sperbeck
kathie@pilonadjustment.com

Kathie is the Office Manager of Pilon Adjustment Service. She has been employed with the firm since 1995. She previously worked at A.C. Nielsen Company for 23 years.



Home | Staff | References | Information Request | E-mail Us






Pilon Adjustment Service, Inc. specialties include:

Property Loss Adjustments

Casualty Losses to encompass worker's compensation,
product liability and investigations.

Damage Appraisals for auto, light trucks, commercial and heavy trucks, heavy equipment, recreational vehicles, motorcycles, watercraft, boats and aircraft.